Why Effective Decision Making Skills are needed in Kids?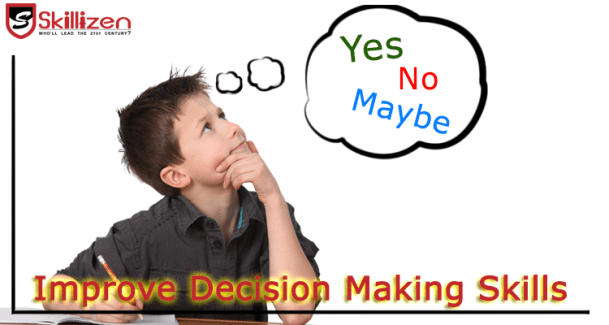 Improving our decision-making skills can help us approach decisions with more confidence. It can give us more freedom and control over our life and increase our chances of being satisfied with our decisions.
Effective decision making in 21st century under conditions of uncertainty involves the ability to recognize risk, formulate strategies for action, and coordinate with others in order to bring a certain condition in control.
A skilled decision-maker develops more alternatives from which to choose and a better chance of achieving the alternative selected. Through this skill we solve problems by selecting one course of action from several possible alternatives and is a key component of time management skills.
Decision making can be tough and complex and it very often involves some conflicts or dissatisfaction. The challenging part is to pick one solution where the positive output can outweigh possible losses.
Avoiding decisions often looks easier but making decisions and accepting the consequences is the only way to stay in control of time, success, and life.
The important element of decision making skills is in knowing and practicing good decision making techniques. Such techniques in imparting learning to make decisions effectively in urgent, uncertain conditions is to be achieved and should begin in from the family, a classroom settings and other set ups.
No doubt there underlies a challenge in creating a learning environment in which children can develop this ability in preparation and support for careers in emergency management and taking game changing decisions for their life. A powerful methodology needs to be stitched with the comprehensive curriculum to strengthen the foundation of making decisions.