Teaching youth leadership is equivalent to making a strong nation!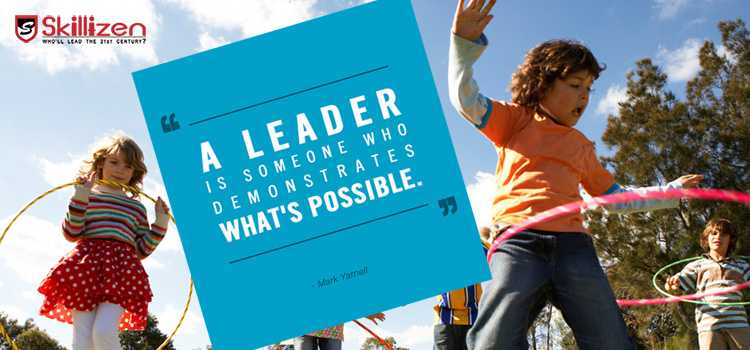 "A Leader is someone who demonstrates what's possible."  Mark Yarnell.
This is a very good quote in the context of great leaders and their leadership and services.
Leaders are visionary people. They work hard for others and their goals are often realistic. Children relate to the pictures of Mahatma Gandhi,  Barack Obama, Nelson Mandela, Martin Luther King, Jr  and many other prominent leaders in the world, when they see them on books or TV. This is because they are taught about them in school or homes. But no institution makes an effort to teach them what it is to 'lead'. History books mentioning the achievements of leaders aren't enough to teach or inspire in today's world. What they need is an inner and practical understanding of leadership and other essential life skills to become a successful person. You might now ask; how should they be taught leadership skills and what is missing from the school curriculum?
The answer is Life skills! It has been surveyed that a growing ratio of unemployment, parent-child conflict, substance abuse has been happening all over the World due to a lack of life skills. By 2020, the World will reach a stage where the parents will repent if they hadn't taught leadership skills to their children. Sadly, competition today has already started increasing expectation levels of parents. What more can a child do other than attending extra classes on the so-called important subjects taught in schools? It is time to think about his emotional, social and behavioural growth which schools fail to teach sometimes.
Reading the word 'leadership' many images might come to your mind. For example;
Barack Obama as political leader.
Your own experience as a leader in your school days.
A person whom you admire for rescuing a group who was stuck in a difficult situation in real life by careful planning and teamwork.
Your own manager or director of the company you work in.
Possibilities are so many, imagination is vivid. So who will teach them about life skills?
E-learning platforms initiated by an educational firm has researched on kids' language adaptability and techniques to test life skills through an unique set of video learning, web based games, question banks. This ensures that your child not only relates to certain words like leadership and decision making but also applies them throughout his life. There is no exact age to be successful. Any kid can be a 'jewel' in the family or community, provided that he gets the right kind of learning. Don't wait to make him a responsible citizen for tomorrow, start today! Show him that the World isn't unfair. There is a chance to get rewarded for his unique skills anytime in life. Starting today will get him ahead of the crowd tomorrow.