Don't let the big dreams of your kids fizzle away, get them started on life skills today!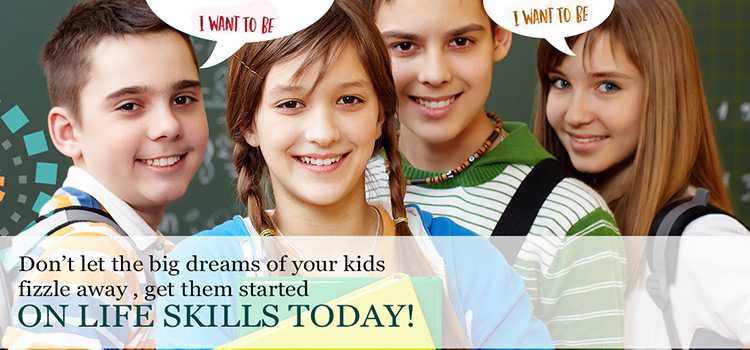 "Nothing great was ever achieved without enthusiasm" – Ralph Waldo Emerson
Motivation is a small word but means a lot when we see its effect. Motivation leads to enthusiasm and enthusiasm leads to greater work. But the question is, what motivates us?
Have you ever thought what motivates you or your child? Is there anything other than sports that makes him excited to know, to learn, to be an expert in?
Research says, the best time to learn cognitive and practical skills start at the age of 4! Shocking isn't it?
You might think, it's too early, but the truth is that children can apply these skills faster in youth. The learning generally happens younger than usual and by the time they complete teenage, they are more likely to acquire these skills in and out.
No institute teaches them skills to manage themselves efficiently in a team or maintain their money accounts for themselves. For example, self management and financial literacy. Are these skills taught in schools?
Definitely not.
Financial literacy can act as a tool to enhance money management decisions more effectively. Why wait till he is 16 years to learn economics?Why not apply these skills in advance?
If he can learn about GK or solve math equations, he can definitely learn management skills. Nobody needs to be an expert to teach their children about personal finance or management skills irrespective of the their child's age.
Learning how to calculate, to locate places, or knowing about the history of our country isn't enough. We need to provide them a power package of 25 life skills by becoming their primary educators! With that, I mean parents and schools. Notably an effort has been made to reach out as many schools as possible to start this type of learning in which students learn more than a basic curriculum of the 16th century.
This promises a different learning experience in which they supposedly undertake easy and quick e-learning modules with fun engagements. Games are a part of the activity along with other questionnaires which ensure that the child learns and comprehends his learning through these modules. At the end of the module, he would be able to manage his finances better and talk about it too. What makes it more special is that, no teacher needs to ask them questions or take a test which happens traditionally in class. He would be able to access the videos anytime of the day.
Life skills not only provide self management and financial literacy skills, but also enhances the team spirit in children. These skills are strewn carefully into a fun-packaged curriculum so that learning becomes a great experience for them. Many of us crib about our jobs and are not satisfied with them. Unfortunately, we didn't learn these skills, but gone are the days now for our children who has a wide range of options to choose from. Your child might dream of becoming an engineer but have you ever thought that an engineer needs more than age-old curriculums and institutes which are confined to traditional learning?
Well, now you will! An engineer needs more than a bookish knowledge to succeed in life.
The same is true for any profession. Practical skills are a must. So what are you waiting for? Let's get started with this amazing experience of Life Skills training.