Are we taking the right decisions for our children?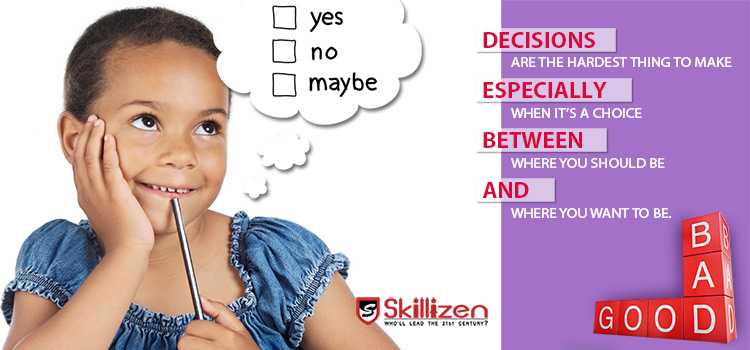 I met John's parents the other day after a football match, they seemed worried. John was not able to decide which course he would choose for specialization in college. His parents gave him options but he was too critical about their choices.
After many parent-professor meetings and personal discussions it was concluded that John should decide the course by himself. He was presented with best examples and outcomes. None of them caught his attention. Each option had its demerits. John's parents were discussing the same issue over lunch the next day. Looking at their sad faces, I sighed. I started thinking how can I change the situation?
Then I came to a point where I found some excellent articles on decision making skills. It completely changed my thinking and I got a clear picture of how the lack of a skill can cause so much stress in life.
Furthermore, there were other vital 'life skills' which were missing from our usual knowledge database; the one mostly parents use to scroll over the net. Apart from face-to-face or virtual discussion, there was no other way to find out what's wrong with your child. Certainly all daily needs are met, without much complaint then why compromise on their basic education? After reading what research says about life skills, I completely thought aloud 'OMG! These are missing from my child's usual curriculum'!! I searched and discussed with many professors which finally led me to discover life skills in its own form. A skill based curriculum which is detailed and consists of all essential management skills that my child needs.
Harvard professor, Edmondson believes that teamwork skills are a must in the 21st century. The economy is growing; we need our kids to be open to skills like decision making, entrepreneurship, teamwork, leadership, communication skills, self-management and others so that they can become winners in life. They would know how to manage themselves and others.
You go to a shopping mart, find a long queue and then argue over trivial things due to unnecessary delay and a hectic schedule. Teamwork shows how to manage that particular stress into an opportunity. For example, the long queue could be managed by becoming an imaginary leader and taking on the responsibility to talk to the cashier regarding wait issues. Also by motivating others in the queue and by maintaining humour we can find a solution to that stress after a long day at work.
Many simple things like such can help a person find solutions and come up trumps for others. Isn't that great?