Test Your Life Skills and Fly to Harvard University for Free!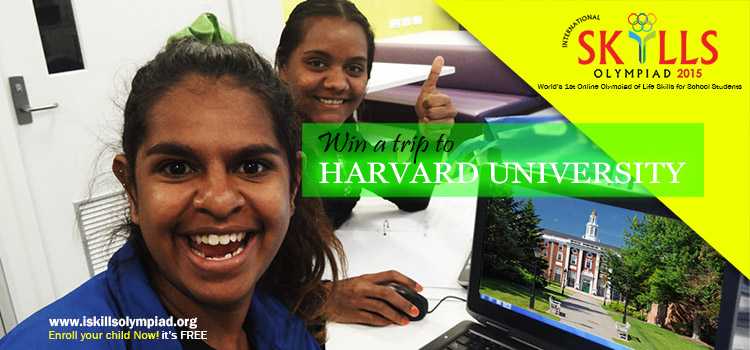 What are life skills? Why do we need them? What is their necessity in today's world? Life skills are those human skills which are needed to tackle the day to day problems and challenges we face in life on every day basis. How do we learn these skills? These skills can be learnt by experience or they can be taught. Are these skills being taught in schools? NO!
The present curriculum is not equipped to teach these skills. We need life skills education to be integrated in the present curriculum. Skillizen, an education company whose aim is to prepare today's students to meet the challenges of the future has prepared World's 1st Life Skills Curriculum for young school children for grades IV to XII. This curriculum has a distinctive pedagogy including interesting lessons, real life scenario based questions, video based case stories and exciting computer games; all to teach Life skills to the young minds in a way that children won't feel burdened.
Now, the question arises, why only for grades IV to XII? According to many researches conducted by educators and psychologists, the right time for children to acquire Life skills and also to get tested for them is somewhere between age group 8 to 16, i.e. grades IV to XII. This is because our brain can learn life skills most effectively between this age group.
These life skills can be tested by appearing for 'International Skills Olympiad'; an online international test for Life Skills. Enrollment for this online test is completely free of cost only for the participant students from 'Skillizen Partner Schools' across the world. If you are a progressive school leader and you would want your school to become a 'Skillizen Partner School', please do write to nitin.tyagi@skillizen.com! This test will be conducted on 26th July, 2015.
While appearing for this interesting test, the students of grade IV-XII will get to test their new skills and their skills levels against the most skilled brains all across the world.
You can also win an all sponsored trip to Harvard University by appearing in this 'International Skills Olympiad'. Besides this free trip to Harvard, there are 1000s of more awards also certificates.
So what are you waiting for? Enroll for free now by logging on iskillsolympiad.org.