Make a leader out of your child – Try International Skills Olympiad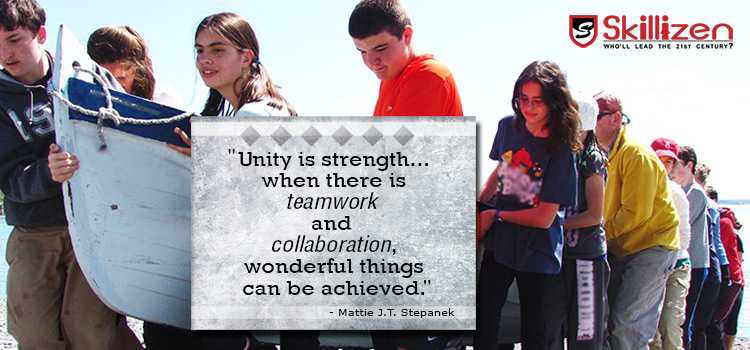 "Unity is strength..when there is teamwork and collaboration, wonderful things can be achieved."
This saying by…Mattie J.T. Stepanek shows How important is Teamwork and Collaboration!
Teamwork is a vital skill that every child should learn. Participation in team activity enables a child to come out of his shell as an individual and to communicate with others. This has an effect on the overall structure of his life. He is more content in group setting naturally by the virtue of this skill. If he learns teamwork and leadership skills from an early stage, then it is more likely to enhance his way of thinking and action throughout his life.
How many times did you hear your child saying – 'I should have'?
If you heard him saying so, then probably he regrets not having done something in his life. Life skills provide the basic education towards a new way of thinking. For example, decision making skill. It teaches our children how to build a base for their thoughts which have a lot of power. It is a fact that thoughts can produce action and action has repercussions. To make it short and simple, decision making skills can provide a mean for success in life.
Now the question is how to teach these skills if school curriculums aren't providing the same? Fact is, only few countries like USA has integrated life skills to their curriculum. But sadly, most of our local schools have not!
It's time to make a change by enrolling for International Skills Olympiad which will allow a child to test his life skills through a unique question bank consisting of all vital skill sets. The whole event is initiated by Skillizen Learning Solutions and is a result of a research at Harvard back in 2011 about child development process and has come up with the fact that by the time a child reaches his teenage, he is most apt to learn a certain skill set to avoid pitfalls in life. This unique test is 'International Skills Olympiad' which is going to be conducted worldwide on 17th December 2015. Your child can get a beautiful opportunity to enroll for the best learning process ever.
To know more about fun videos, games and books on life skills log on to skillizen.com and know more about International Skills Olympiad, kindly visit – ISO