Is Your Child a Leader or Follower?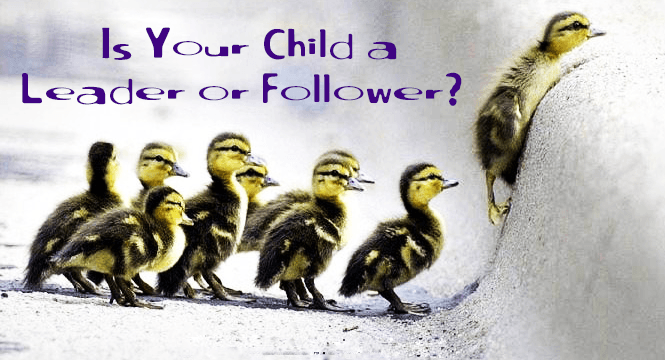 "The mediocre teacher tells. The good teacher explains. The superior teacher demonstrates. The great teacher inspires" – William Arthur Ward
A lot of factors determine whether your child will lead or follow the crowd. Some people believe themselves to be natural leaders and they are born to lead. Paradoxically, it is also true that in order to lead we need to follow first.
One interesting fact is also that Leaders are lonely; they need to lead their inner selves before leading others. What other people expect from them does not matter. What really matter is how they are able to touch other people's hearts.
Dan Reiland, Vice President of Leadership Development INJOY, thinks charisma plays a vital role in leadership and says, "Leadership exhibits a quality named Charisma and to have that we need to be more concerned about making others feel good about themselves than making ourselves feel good about us" (Leadership qualities – Charisma : The First Impression Can Seal the Deal)
But most of the times, we forget to make our children feel good by encouraging them, let alone focusing on leadership qualities in them. We tend to compare them with other kids for achievements which are a result of hard work, dedication and teamwork on the other kid's part. This comparison or anxiety factor which is created due to the 'need' to prove their worth is dangerous sometimes. Children become depressed, develop low self-esteem and stop interacting with their parents. On the contrary, little rewards work a lot in boosting their self-esteem. Looking at the growing number of depressed and nervous children, it's time to know the correct method of teaching them how to win.
Life skill training on leadership gives them an opportunity to learn new skills and apply them in day-to-day situations. Life skills also teach many practical skills sets which not only help your child to achieve but also provide them a sound base to lay a fantastic foundation for life.
Why would anyone need to think twice about their child's achievements? For example, if a guest comes up and suddenly asks about child's annual function day, most children feel shy and parents keep silent. A study showed that the reason of keeping quiet while others discuss their achievements is a sign of lack of confidence. No public institution or school provides a self-help book for children. All they do is teach traditional subjects which examine the cognitive abilities. Social and emotional behaviour is least tended to, resulting in children failing to understand why their parents expect a lot from them and how they can shape up their future by applying life skills like decision making, leadership, teamwork, financial literacy, smart consumer literacy, personal branding, etc. It's time to make a change and start implementing life skills into your child's usual learning to ensure a better future for him or her.